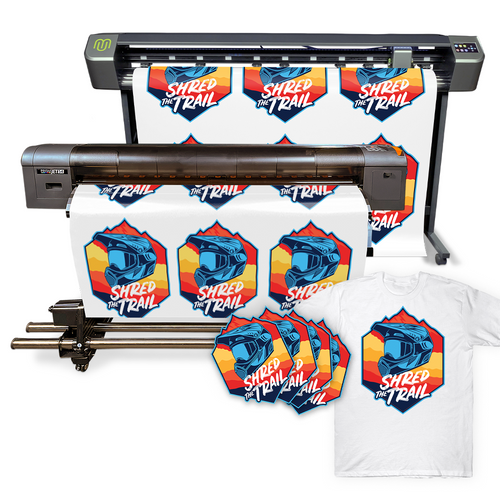 Overview
Specs
Applications
The PrismJET 54 Gen 2 builds on the class-leading features in the newest iteration of our best-selling printer. The advanced TruePoint piezo print head and wave print firmware make printing stunning graphics easier than ever. To get the most out of your PrismJET 54, you'll want to bundle it with an advanced contour-cutting large format vinyl cutter. There's no better value in a large-format print and cut system than the PrismJET 54 paired with a MUSE M60 vinyl cutter. 

Features:
New TruePoint print head achieves high productivity and high image quality

New advanced print head supports the automatic bypassing of clogged nozzles for trouble-free printing

The larger print head has 11% more nozzles, a higher nozzle resolution

12% faster print speeds than PrismJET VJ54

The built-in color sensor can achieve automation on feeding and Bi-Directional adjustment for each media

DropMaster2 firmware precisely controls dot size and maintains print quality

FeedMaster automates media feed adjustments to maintain precise high-resolution print production.

The New Barcode media tracker feature helps monitor media roll status.

Three head height settings accommodate a wider range of media thickness

End-user-replaceable wiper, new access door for easier maintenance.
Content:
PrismJET 54 Gen2 Large-format Printer

MUSE M60 vinyl cutter w/camera based registration mark scanning

25 ft ethernet cable

10FT Power cord

One year depot warranty

One year of Complimentary Gold Support *
PrismJET 54 Gen2 Specifications:
Print Technology: Single TruePoint variable drop-on demand piezo print head

Nozzle Configuration: 1600 (400 nozzles x 4 lines)

Maximum Resolution: 1200 dpi

Head Heights: Low: 1.5mm / Middle: 2mm / High: 2.5mm

Production print speed: 163 sf/hr in High Production Mode @ 600 x 600 dpi

Banner Mode print speed: 313 sf/hr in Banner4 mode (300 x 600 dpi)

Max. Media Width: 54 inches (1371mm)

Max. Print Width: 53.58 inches (1361mm)

Max. Media Roll Weight: 44 lbs (19.9kg)

Max. Media Roll Diameter: 6" / 2" (3" optional)

Media Drying System: Individually controlled pre-heater, fixer & dryer (30 - 50 °C)

Media take-up system: Optional motorized

Media Sheet-off function: One-touch control panel cross-cut function

Ink Type: Endura Ink PRO eco-solvent ink

Ink Volume: 220 ml & 1000 ml / 1000 ml

Ink Colors: CMYK

UV durability—without lamination: 3 years outdoor

Data Interface: Ethernet (10BASE-T、100BASE-TX)

During Printing < 500 W

In Stand-by: 45 W

Warming Up ≤ 1550 W

Power Supply: Voltage: AC 100V〜120V ±10% / AC 200V〜240V ±10% Frequency: 50/60Hz ±1Hz

Power Consumption-Operation: AC100V〜120V/AC200V〜240V, T.B.D W or below

Power Consumption - Sleep Mode: AC100V〜120V/AC200V〜240V, T.B.D W or below

Operating Temperature: 71 - 86°F (22°C - 30 °C) with Δt: max. 2 °C/h

Operating Humidity Range: 40% - 60 % (no condensation) with ΔRH: max. 5% RH/h

External Dimensions: 75.43"W x 26.97"D x 47.95"H (1916 x 685 x 1218 mm)

Weight: 181.44 lbs (82.3 kg)
MUSE M60 Specifications:
Maximum Media width: 64.9 inches (1650 mm)

Maximum Cutting width: 60 inches (1540 mm)

Maximum Contour Cut width: 59 inches (1500 mm)

Tracking: Up to 180 inches

Maximum Cutting Force: 2,000g

Maximum Cutting Speed: 24 ips (600 mm/s)

Maximum Carriage Speed: 27 isp (700 mm/s)

Drive Method: Micro-Stepper Motor

Number of Heads: 2

Contour Cut: Yes, Camera, Automatic activation

Memory: 128 mb

Cutting Precision: +/- 0.01 mm

Repeat Precision: 0.082 mm

Dimensions (assembled): 72" (W) X 43" (H) X 26" (D)

Box Dimensions: 76" (W) X 14" (H) X 15" (D) (1920*360*388 mm)

Shipping Weight: 70 lbs. (32 kg)

Floor Stand: Yes

Interface: USB Flash/Wifi/USB Cable

Power Supply/ V/Hz: 220/50

Power: <100W

Working Environment: 41°-95°F (+5° - +35°C)

What's in the Box: Warranty Card, blade, blade-holder, 3 plotter blades, plotting pen, hex keys for stand assembly, USB cable, power cable





*Ink and RIP software not included.
PrismJET 54 Gen2 Wide Format Color Printer: One printer. Limitless applications.
Here are some of the ways you can make money with a PrismJET 54 print & cut starter bundle.
Car Wraps, fleet motor sports & marine graphics

Commercial and residential wall and floor graphics

Commercial window displays & P.O.P. graphics

Industrial labels, peel & stick decals

Garment decoration; vivid graphics on dark shirts.

Indoor & outdoor banners

Exhibition graphics and retail backlit signage

Outdoor-durable posters