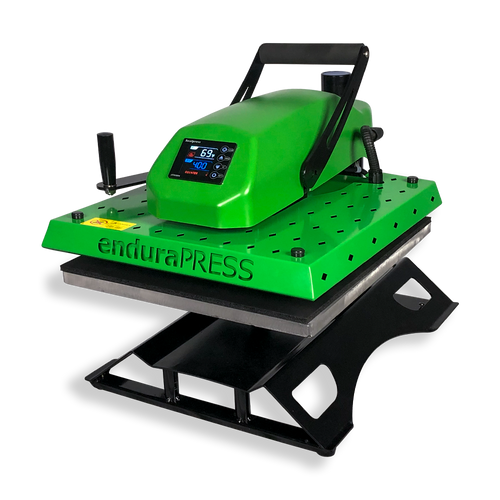 Overview
Specs
Applications
Video
The EnduraPRESS SD20 Digital Swing Away heat press offers many professional features found in other heat presses costing hundreds of dollars more. The full-sized 16 in x 20 in upper heat platen supports pressing larger transfers with 20 inch heat transfer vinyl. The swing away platen design provides more room for setting up substrates, and has optimal vertical pressure which is necessary for thicker substrates such as tiles and mouse pads. The EnduraPRESS SD20 features a solidly constructed table that enables even pressure across the lower platen. The spring-actuated lever allows you to open the press smoothly, even on high pressure settings. All of these features make it an excellent choice for demanding heat transfer applications, including two-step laser transfer paper.

The EnduraPRESS SD20 features a 16 inch x 20 inch heating element that is consistent across the entire platen with a temperature range of up to 480°F. It also features a digital touch-screen LCD control panel which makes it easy to customize controls for a variety of applications. The LCD control panel gives you quick and easy access to cycle time, Celsius to Fahrenheit conversion, a programmable alarm, and temperature display calibration, all accessible in seconds. The EnduraPRESS SD20 swing away design provides excellent pressure and accurate temperature controls allowing for stress free application of even demanding heat transfer products. The EnduraPRESS SD20 is still simple to setup, dependable, and easy to use. See for yourself why the EnduraPRESS SD20 is one of our top selling products. 
Features: 

Swing Away design is ideal for even thicker substrates 

16 inch deep x 20 inch wide heating element

Ideal for 20 inch heat transfer vinyl

Temperature range up to 480°F
Easy to use and read digital touch screen LCD panel
Celsius to Fahrenheit conversion
Programmable alarm
Temperature display calibration
Extendable base for superior stability

High quality durable construction
Accurate temperature controls
Maximum Pressure: 1,000 lbs of force or 8.3PSI
One Year Warranty
Applications: 
Heat transfer vinyl
Printable heat transfer vinyl
Dye sublimation
Two Step Laser Transfer Paper
Swing Away designs can be used for almost all substrates even thicker items such as tiles and mouse pads.
Swing Away designs provide complete overhead access to laying out your design on the substrate
For a more information on the many options of the EnduraPRESS SD20 swing away heat press please read the following blog article: Optional Platens for the EnduraPRESS SD20
READ the User Guide for the EnduraPRESS SD20 Swing Away Heat Press.

CONTENTS:
(1) EnduraPRESS SD20 Heat Press - 16 in x 20 in
SPECIFICATIONS:
16 in x 20 in platen with consistent temperature throughout
Temperature range: 0-480°F
Heating speed to 392°F: 20 minutes
Maximum Open Height is 0.5"
Circuit-breaker reset button: No tripped breakers
Temperature display accuracy: Within 5°F
Voltage: 110V/60Hz; Power: 1.4kW
Shipping weight: 129lbs
Shipping dimensions: 29 in x 20 in x 21 in
One Year Basic Warranty
Applications:
Heat transfer vinyl
Printable heat transfer vinyl
Dye sublimation
Two Step Laser Transfer Paper
Swing Away design can be used for almost all substrates even thicker items such as tiles and mouse pads.
Swing Away design provides complete overhead access to laying out your design on the substrate