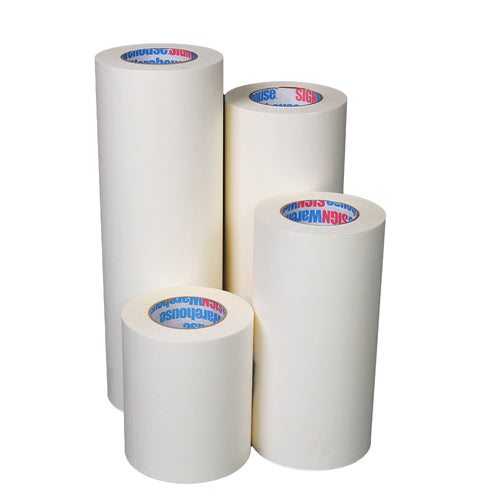 Overview
Applications
Video
The excellent lay-flat characteristic of this high-tack tape allows for long term storage of graphics with no excessive adhesion. EnduraMASK Perfect Tear LayFlat is a high-quality, high-tack paper tape designed for glossy vinyl applications. The high-grade adhesive resists 'legging' to support clean edges when torn for easy handling of large and small vinyl graphics.
The acrylic adhesive is suitable for use on hard-to-release products like ORACAL 651. The high-tack level makes it compatible with matte removable vinyl on flat and moderately textured surfaces. For best performance in wall graphics, use with EnduraMATTE vinyl. Approved for use with ORACAL 631 on smooth surfaces.
This high-tack tape is great for large and small letters and logos, easy weed and matte calendered vinyl and is a general use tape for all kinds of vinyl, including cast film specialties. It is the superior choice for most sign shop applications. 
Only available in 100 yard rolls. This is not a clear tape, but if you are looking for a clear tape check out EnduraMask MHC160 our #1 selling clear tape.

FEATURES:
High Tack Formula
Release with ease
No tearing or wrinkles
No glue string when transferring
BEST application tape ever
High adhesive coating weight enables it to transfer challenging vinyls

Despite high initial tack, tape can be easily removed with no residue, even after long periods of time on the vinyl
High adhesive coating weight enables it to transfer challenging vinyls like ORACAL 631 and 651
Compatible with EnduraMATTE vinyl for wall graphics applications