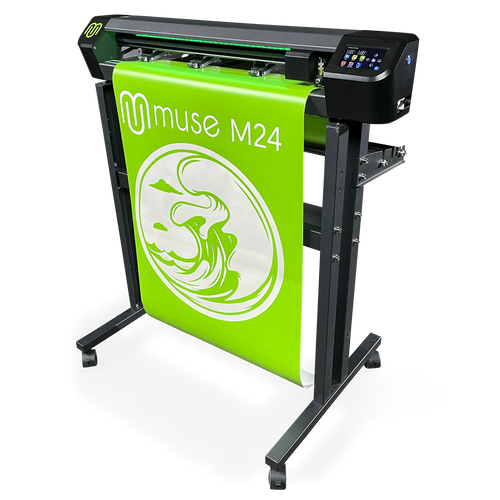 Overview
Specs
Applications
Video
The MUSE M24 disrupts the vinyl cutter world with ground-breaking features and an appealing user experience that surpasses name brand cutters costing twice as much. It incorporates thoughtful touches like programmable LED platen lighting, camera-based automatic registration mark sensing, and a tool carriage that supports cutting and engraving. The unique tool carriage accommodates two tools for seamless transitions from pen plotting to vinyl cutting or scribe engraving. It's a great complement to digital printers and a versatile, thoroughly modern solution for all kinds of vinyl signs and graphics.  Disruption never looked so good!

MUSE Features:
Large High Tech Touch Screen: The MUSE M24 features an appealing LCD user touch screen interface that combines smart menus with ease of use. The menu includes powerful functions like automatic contour cutting, camera settings, wi-fi connectivity, and programmable presets.

Tool carriage supports standard vinyl cutting blade plus pen tool and scribe engraving tool for use on acrylic sheeting.




Camera-based Contour-Cutting: The M24 incorporates an advanced camera that scans printed registration marks and integrates them into the LCD to show the camera's progress as marks are scanned. The LCD menu and camera interface supports the precise calibration of the camera and the scanning mechanism.

The programmable LED platen lighting illuminates the work area and supports more consistent performance scanning printed registration marks in various lighting conditions.

Optional scribe engraving tools: The tool carriage supports switching from cutting adhesive-backed film to scribe engraving thin hard stock surfaces including acrylic sheeting. 

Wi-fi, U-disc Options for Remote Cutting: The M24 is equipped for remote cutting with a USB port that accommodates processing plotter files from a thumb drive, and a wi-fi option that supports sending jobs wirelessly over your home or office network. You're no longer tethered to your PC.
*Shown with optional equipment*
Vinyl Express LXi Master Plus 22
 provides all the design tools needed for professional quality signs, banners, and T-shirt transfer graphics. It includes powerful design tools such as artwork approval tool, advanced contour-cut options, bitmap editing tools essential for print-and-cut decal design, fans and arrows, parametric shapes, color vectorization, blend effects, pattern fills, plus all the tools and features found in LXI Master.
Vinyl Express LXi professional sign-making software has been developed with over 35 years of experience. Push the design envelope and save time and money with the amazing features of LXi software.
Content:
Muse M24 Vinyl Cutter with stand
Vinyl Express LXI Master Plus 22
EnduraGLOSS 24-inch x 5-yard - Sapphire Blue
EnduraGLOSS 24-inch x 5-yard - Artic Blue
EnduraGLOSS 24-inch x 5-yard - Green
EnduraGLOSS 24-inch x 5-yard - Plum
EnduraGLOSS 24-inch x 5-yard - Lavender
EnduraGLOSS 24-inch x 5-yard - Daffodil Yellow
EnduraGLOSS 24-inch x 5-yard - Cranberry
EnduraGLOSS 24-inch x 5-yard - Lime Green
EnduraGLOSS 24-inch x 5-yard - Matte Yellow
EnduraGLOSS 24-inch x 5-yard - Cherry Red
EnduraGLOSS Color Chart
18" x 24" Endura Cutting Mat
EnduraMag Set of (2) 12" x 24" - Gloss White
Snappy2 Tool
4" x 11-yard Sample roll of EnduraMASK 160 Medium-High Tack Clear Application Tape*
4" x 11-yard Sample roll of EnduraMASK 130 Medium-High Tack Paper Application Tape*
Weeding Tool
Oracal Grey Squeegee
90 days of complimentary Gold support
*Due to the ongoing supply chain issues, colors and sizes for sample rolls and other starter bundle contents may vary depending on stock.
MUSE M24 Specifications:
Maximum Media width: 28.3 inches (720 mm)
Maximum Cutting width: 24 inches (610 mm)
Maximum Contour Cut width: 22.4 inches (570 mm)
Tracking: Up to 120 inches ♦
Maximum Cutting Force: 800g
Maximum Cutting Speed: 24 ips (600 mm/s)
Maximum Carriage Speed: 27 isp (700 mm/s)
Dive method: Micro-stepping motor
Contour Cut: Yes, Camera, Automatic activation
Memory: 128 mb
Cutting Precision: +/- 0.01 mm
Repeat Precision: 0.082 mm
Dimensions (assembled): 37" (W) X 39" (H) X 20" (D)
Box Dimensions: 30" (W) X 12" (H) X 11" (D) (770*310*265 mm)
Shipping Weight: 31 lbs. (14 kg)
Floor Stand: Yes
Interface: USB Flash/Wifi/USB Cable
Power Supply/ V/Hz: 110/50
Power: <100W
Working Environment: 41°-95°F (+5° - +35°C)
What's in the Box: Warranty Card, blade, blade-holder, 3 plotter blades, scribe engraving, plotting pen, 12" by 19" sticky cutting mat, hex keys for stand assembly, USB cable, power cable
LXI 22 Hardware Requirements:
Windows PC with at least 4 GB of RAM (8GB of RAM is recommended)
Screen resolution of 1125 x 854 with 16-bit color or higher
1GB of free hard drive space, and 4GB of working disc space
Compatible OS - Windows 7, 8, 10, 11
♦ Optimal tracking performance requires pre-feeding the appropriate length of vinyl on long graphics. Pulling vinyl against the weight of the roll creates drag that may damage the drive motor and/or interfere with tracking performance.
Applications:
Custom vehicle graphics and fleet graphics
Commercial signs and banners
Decals for decorating drinkware (mugs & tumblers), laptops, lockers, etc
Cutting heat transfer vinyl for league jerseys, custom fashion, and branded commercial apparel
Contour-cutting of desktop and wide-format digitally printed vinyl graphics
Architectural graphics: etched glass interior window displays, removable wall graphics, removable floor graphics
Scribe engraving of small-format plaques and directional signage
Cutting of stencil film and paint mask for wood signs and related sign and hobby applications