If you're one of the entrepreneurs considering a garment decoration startup. you may be overwhelmed with the different methods the market has to offer. We're here to help you cut thought the clutter. If you're on a small budget, please hop over to our T-shirt printing options in the under $5,000 article.
If your ambitions are a little higher, this one's for you. We'll broaden the horizons a little and see what advantages one might gain from an initial investment in the five to ten thousand dollar range. To keep it simple, we'll stick with sublimation, laser transfer, heat presses, and print and cut packages.
Generally speaking, what makes these t-shirt printing options more expensive is the fact that they're based on larger, or specially engineered printers. What do you gain from investing in larger printers and better heat presses? Productivity, economy, or versatility?
Heat Press Upgrades = Better
If you want to invest in T-shirt printing and have the budget for something in this price range, the first thing you should consider is a top quality heat press. This decision alone can add as much as $2,500 to the initial equipment cost. But the advantages in terms of speed and consistency are worthwhile, especially for laser transfer. Some of the more advanced presses, like the Digital Knight DK20-AR can be automatically opened and closed, preventing accidentally burned shirts.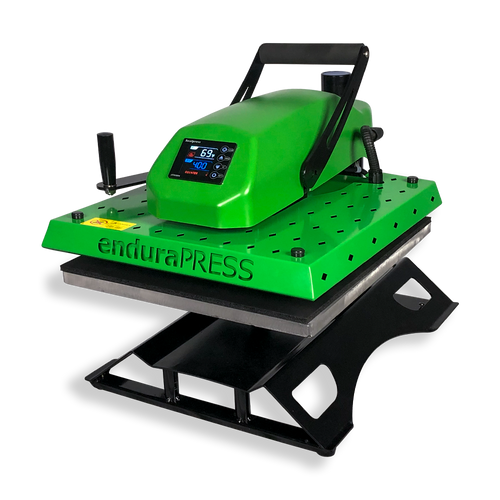 This is a lifesaver in a busy shirt shop. 
Speaking of laser transfer, we've already noted that the two-step papers used for dark garments work better with a swing away press than with clam shells. A good 16 x 20 swingaway press with accurate temperature controls is a must for serious laser transfer work. Our popular EnduraPRESS SD20 is a great choice for this application.
Another way to further optimize laser transfer production is to use an automated swing away press that allows precise control of the pressure setting. The final step with the two step laser transfer papers requires heavy pressure. What's 'heavy' depends in part on the upper body strength of the press operator. There's a fair amount of opportunity there for subjective error. Using a press that allows you to set the pressure at a specific- and repeatable- PSI standard will yield more consistent results and reduce waste from botched transfers. Two options in this category are the Geo Knight DK20S and Stahl's Hotronix Air Fusion . Both are high quality presses that will improve your consistency and support high volume shirt production. Compressed air is required.
Faster: If speed is more important to you than consistent pressure, a Twin shuttle press upgrade might be a good investment to support higher print speed. The twin shuttle option speeds workflow by allowing you to place the next shirt on a table while the first one is being pressed. The most affordable twin shuttle press is the EnduraPRESS CS15-AR TS. The CS15-AR TS also offers the speed and simplicity of an auto-open function The CS15-AR TS offers all of this productivity for less than $900.00
Large Format Dye Sublimation
Go big with a 42 inch sublimation printer
Since dye sublimation is the most affordable of our T-shirt printing options, one might expect it to be difficult to spend more than $5,000 on a sublimation system. And one would be right. If you love desktop sublimation and want to expand your options with a large format system, you can find several wide format sublimation systems in the $5,000 - $8,000 price range. The Sawgrass Virtuoso VJ628 offers the same ease of use and quality found in the desktop printers in a more versatile wide format platform. The VJ628 is a 24" printer based on the MUTOH VJ628/PrismJET VJ24, a printer known for its rock-solid reliability. Sawgrass chose the MUTOH print engine to bring improved levels of reliability and ease of use to the wide format sublimation market. The Virtuoso VJ628 comes with several ink configurations including a dualCMYK color set, an eight color Pro Photo configuration, and an expanded gamut 8 color ink set that includes Fluorescent spot colors for eye-popping designs.
Go Bigger: If you want to maximize the benefits of large format sublimation, a wider platform may suit you better. Most serious sublimation professionals bypass the 24 inch option and look for something that more closely matches the output of heat presses like the afore-mentioned Mogk machines. For you, we offer the PrismJET DS42, wide-format workhorse that cranks out CMYK transfers with vivid color and serious speed. Although bigger printers come with bigger price tags, you can get a PrismJET DS42 starter bundle with an EnduraPRESS twin shuttle heat press for under $8,000. So there are economical options available in our target price range for this article.
Large Format Sublimation Advantages: The advantages of a large format dye sublimation system can be summed up in three words: speed, size, and economy. Larger wide format printers outperform desktops in production speed. A Virtuoso VJ628 in produces high resolution 720 x 1440 dpi transfers at a rate of 57 square feet/hour. That's about 40% faster than a Virtuoso SG800 desktop printer in Quality mode. The PrismJET DS42 can print at up to 676 sf/hour, so it's max output is ten times faster than the VJ628. This is a professional production platform. And wider format prints mean you can consider sublimating raw polyester, then having it cut and sewn into a finished product, as noted above. A fully sublimated shirt should command a higher price than one with an added transfer. Speaking of price, the other advantage of going big with sublimation is the lower ink cost produced by using larger ink cartridges and bulk ink systems. For example, the estimated print cost for Virtuoso VJ628 is only 27¢ per square foot as opposed to 63¢ for a Virtuoso SG800. That's a 57% reduction in cost.
Disadvantages: The disadvantages of large format sublimation are the same as those of the desktop variants. You're still limited to using white polyester or polymer-coated substrates. And flooding a sheet of white polyester with a full width print that makes it look like you've decorated a black shirt only uses more ink. And even at 27¢/sf, the ink cost of a large format sublimated print is two to three times higher than the toner cost of a laser transfer, and five times higher than screen print. But if you love the softness and quality of sublimation and want to make it bigger, faster and slightly more affordable, a large format system might suit you well.
Laser Transfer
The star attraction for laser transfer in this price range is the OKI Pro 8432WT. The 8432WT is a tabloid size LED laser printer that comes with a five toner setup comprised of CMYK plus White. The white toner serves as the under-base that allows your process color image to look correct on dark and colored apparel. The result is a full color photo quality image with opaque white and vivid color no matter the color or fabric of the garment. The addition of black toner to the 8432WT enables decorators to print higher-contrast images on white apparel, and paper, an option not present in the smaller OKI 711WT.
Speaking of competitive advantages, all of our Pro 8432WT starter bundles come with the optional Forever TransferRIP software which is a $599 option if purchased separately. TransferRIP enables single-pass CMYW printing and adds several powerful color management tools. TransferRIP also gives you more freedom in choosing a graphic design platform.
The TransferRIP screen option softens transfers and saves money
The OKI WT print engine only works with Photoshop and requires the use of clipping paths that can add considerable time and complexity to your design work. With TransferRIP, all you need is a single layer image with a transparent background. These can be generated in a number of different design applications including FlexiSign or LXI Master Plus. The coolest TransferRIP trick is the rasterization screen option, which converts solid layers of toner into halftones. The halftone conversion produces a softer, more flexible transfer. It also reduces toner cost by up to 40%. It's the ideal solution for customers who want the versatility of laser transfer and the softness of screen printed apparel. The OKI Pro 8432WT handles both letter and Tabloid (11" x 17") sheets of laser transfer paper so it's the natural upgrade for decorators using a desktop printer like the 711WT or iColor 500 or 550. Our Pro 8432WT Economy starter bundle includes TransferRIP and an assortment of laser transfer paper for light and dark garments, all for only $7,495.00.
Laser Transfer Advantages: Relative to the OKI 711WT and Oki PRO 920, the Pro 8432WT offers the obvious benefit of five toner cartridges. No more washed-out blacks. Compared to the 711WT, the advantages are larger transfers and the available packages with TransferRIP. The larger toner cartridges also reduce the image cost making it a more cost-effective solution.
Disadvantages: Like all laser transfer printers, the OKI Pro 8432WT requires a swing away heat press for consistent transfers. But it need not be a fancy one. A humble EnduraPRESS SA12 will do for starters. But for efficient production, you'll want to invest in one of the larger or more advanced models discussed above. And the two-step papers required for decorating dark garments require a little practice to achieve consistent results on the first step. But if you're looking for a dark garment solution that produces screen print quality softness without the use of white ink and pre-treated shirts, a white toner laser printer may be the best fit.
Print and Cut
The VJ24 is perfectly sized for printing T-shirt transfers
The entry level print and cut T-shirt printing packages are among the most flexible options due to their ability to work as standalone T-shirt printing systems or to enhance sublimation or laser transfer. Investing in a more advanced print & cut package only enhances that versatility by adding a myriad of profitable applications to your printing portfolio. The PrismJET VJ24 is an exciting blend of space efficiency and productivity. Its maximum 24" print width is more than sufficient for custom apparel, but is small enough to be used in a standard office space. It uses a dual-CMYK ink delivery system for long print runs, but uses standard 220ml ink cartridges for better economy. And at print speeds of up to 435 sf/hour, it's a champ at cranking out color. The EnduraINK PRO eco-solvent ink prints to a wide variety of coated and un-coated substrates including most digitally printable heat transfer films on the market. And a print and cut package with an advanced vinyl cutter and a heat press can be yours for under $8,000.
Print & Cut Advantages: In keeping with the versatility of the print and cut systems reference in our 'under $5,000' article, the PrismJET VJ24 offers profitable possibilities beyond garment decoration including signs, banners, fleet graphics, and all kinds of posters and decals. The other advantage is the relative ease of the heat transfer application, compared to laser transfer. Solvent-printable 'T-shirt vinyls' must be cut and weeded, but they're much more forgiving than self-weeding transfer papers. Speaking of which, all the various T-shirt printing methods presented here have relative strengths and weaknesses. To help you sort out the pros and cons, we've devised a chart that compares all of these methods side by side. For each method, there are hard numbers like start-up cost and average operating costs. Each is also ranked on a scale of one to five for ease of use, versatility, durability and more.
You'll probably find that not one method fits all your needs perfectly. So you'll need to prioritize what metric is most important for you. If you value versatility above economy, sublimation may be the wise choice. If decorating dark garments is a must, you may be better served with a laser transfer or print and cut process. And if versatility and ease of application are your priorities, a print & cut system may be your best bet. Click here to view or download the comparison chart.
We hope you find it to be a useful decision-making tool. Many a successful business starts on a shoestring. But if you want to get to your goals more quickly, it only makes sense to invest in a more advanced package. Include a more robust heat press that supports your production targets. Consider the other possible applications for your T-shirt printing equipment, and don't limit yourself to letter and tabloid sized prints. Often a bigger initial investment yields bigger prints, faster production, and lower operating costs, all of which add up to faster returns and substantially better long-term profits.