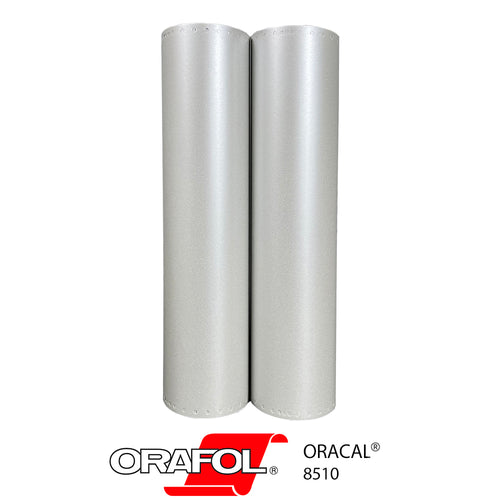 Overview
Applications
Video
Oracal 8510 translucent etched glass vinyl is a high performance cast vinyl that is designed to have the same appearance of etched or frosted glass. Ideal for glass, window, or storefront decoration, Oracal 8510 is available in four beautiful finishes. This 3 mil etched glass vinyl is ideal for indoor or outdoor, and is durable for up to 7 years outdoor. Oracal 8510 provides a high end etched glass look for indoor or outdoor signage and decoration. 

Features:
3 mil
Up to 7 years outdoor durability
Available in two eye-catching looks & colors - Gold & Silver in Fine or Coarse
Clear, solvent based permanent adhesive
For more useful information on Oracal 8510 please read the following blog article,
Oracal 8510 & 8810 Etched and Frosted Vinyls.
Oracal 8510 Product Data Sheet 
Applications:
Easily create the appearance of etched or frosted glass

Ideal for glass, window, or storefront decoration

Craft projects, personalized glassware, mirrors, etc.
3 mil
Up to 7 years outdoor durability
Available in two eye-catching looks & colors - Gold & Silver in Fine or Coarse Finish
Clear, solvent based permanent adhesive
Silicone coated, paper release liner