Overview
Applications
Video
Special effects film is designed to withstand environmental extremes making it a perfect choice for long term outdoor signage applications. It's easy to cut and apply with the 78# liner for trouble free cutting without tunneling. The new acrylic adhesive system meets the demands of longer tern general outdoor signs, banners, vehicle graphics, and more. Use a 60 degree to cut and 90/110g downforce. Small engine turned circles are 5/16" in diameter.
Customer Reviews
Write a Review
Ask a Question
06/04/2018
Anonymous
Inverness, Florida
Ordered this gold and was very pleased, order arrived as scheduled and customer was happy.
02/02/2018
Anonymous
Brighton, TN
I've applied Schein Holographics Engine Turn Gold to 6 fire trucks and it's worked nicely every time. You may need to play with your cutter's settings before you achieve the perfect cut, which is necessary when it comes time to ****. This vinyl is brittle and easy to tear when weeding but with care you should be able to use it without trouble. Engine Turn vinyl doesn't hold up well to the elements - you will want to cover your Engine Turn graphics with ORAGuard plastic laminate.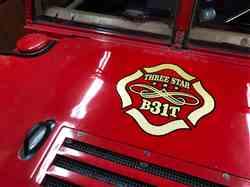 08/05/2016
Anonymous
Undisclosed
Well made, easy to cut, easy to **** and apply.
05/10/2016
Anonymous
Colebrook, N.H., USA
Pretty much garbage. Turns black or loses its color in less than a year. Had to turn to a much more expensive option to make it right for the customer
06/13/2012
Anonymous
Mulkeytown, IL, US
Easy to cut, Easy to ****, adheres great. Have had no problems with this vinyl and this is the third roll I have purchased